Vote Save America
We'll send you the most important updates as we get closer to Election Day (we won't spam you, we promise).
Our first Senate polls went into the field on Monday September 14. That Friday, Supreme Court Justice Ruth Bader Ginsburg passed away. The right-wing political machine sprang into action to proclaim exactly how this would play out. Even before Ginsburg became the first woman and first Jewish-American to be honored by lying in repose at the Capitol, Republicans were ready to confirm her then-unnamed successor with a little more than a month left before American voters could choose a new president and Senate majority. 
Republicans believed, or claimed to believe, filling this vacancy would help them win over voters at the ballot box. We know better. The evidence of volunteer enthusiasm and our latest round of polls show that Democrats are poised to flip the Senate. Indivisible's Payback Project has mobilized local volunteers in the home states of 12 incumbent GOP Senators. On the Saturday after Ginsburg's passing, Indivisible volunteers contacted nearly half-a-million voters in a single day through phone and text banking, breaking the organization's record, and doubling the numbers they logged the prior weekend, while sign ups for volunteer shifts continue to climb.
It turns out most Americans don't support what McConnell's Senate is doing either.
By a 65-22 majority, the nation would rather the Senate prioritize coronavirus relief rather than confirm a judge. 
Data for Progress's new Senate polls tell the same story. In the four races we polled this week, there wasn't any significant movement toward the GOP from previous public surveys.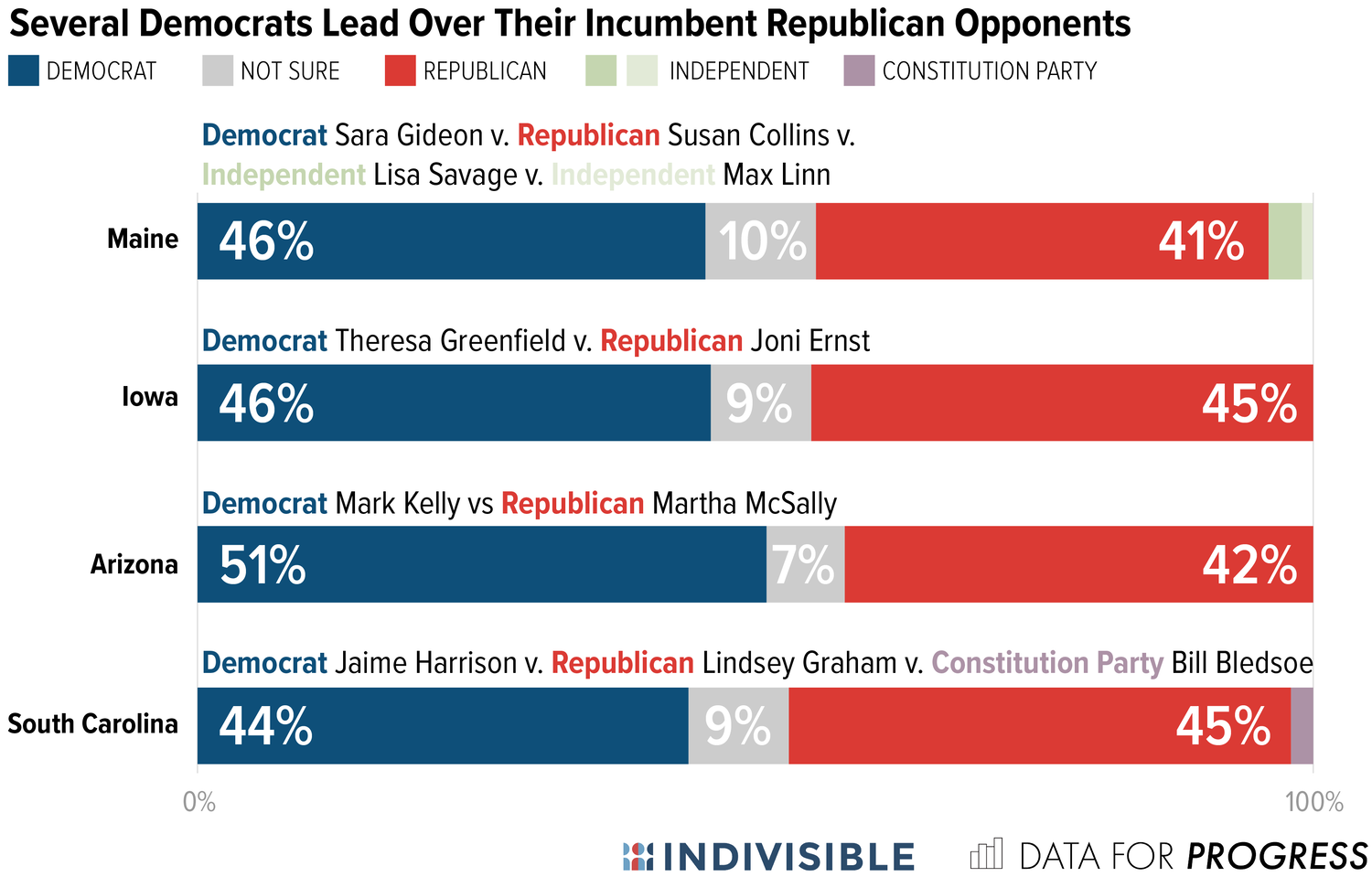 In Arizona, Democratic candidate Mark Kelly has a commanding lead 51-42 over Martha McSally, the senator appointed to replace the late Sen. John McCain (R-AZ), after she narrowly lost the 2018 election to replace retired Sen. Jeff Flake (R-AZ).
In Maine, Speaker of the House Sara Gideon also holds a lead over incumbent Senator Susan Collins, 46 to 41, which grows to 8 points once respondents are asked to choose between just the two major candidates. Collins' numbers took a notable plunge after she cast a critical vote in favor of Supreme Court Justice Brett Kavanaugh—the last time Republicans insisted that stacking the courts would help them at the ballot box. 
Arizona and Maine have both been top tier races for the entire cycle. The other two races we polled this week weren't on those initial lists, and are toss-up matches today. 
In Iowa, Teresa Greenfield has a 46-45 lead over incumbent Senator Joni Ernst, in a state that should be solidly red but that Trump is losing by five points.
In South Carolina, Senator Lindsey Graham has a one point 47-46 lead over challenger Jaime Harrison. South Carolinaians have soured on Graham over the years, exemplified by one major donor who publicly abandoned him when he failed to defend McCain from Trump's insults. Over the past few months, multiple public polls have confirmed that he may lose his re-election. As the Chairman of the Senate Judiciary Committee, Graham will preside over hearings to fill the Ginsburg vacancy. Notably, a group of Republican political operatives has targeted Graham for defeat with a message highlighting the lies he told about judicial appointments.
Harrison isn't just any candidate. He's a South Carolinian who knows what it's like to face systemic racism and poverty, and is ready to fight to make sure all South Carolinians have access to quality affordable health care and a good education. The Senate has not historically been a welcoming place for Black Americans, measured either by representation or voting power: only 10 have ever served as senators and only sex of those senators were elected by popular vote. Today, Harrison stands at the precipice of becoming the first African-American Democratic senator elected from the South since Reconstruction. 
Alongside Ginsburg, the death of another recent American hero, Rep. John Lewis (D-GA) looms large over this year's Senate landscape. Georgia Senate candidate Raphael Warnock is the lead pastor of Ebenezer Baptist Church in Atlanta where John Lewis worshipped. In his eulogy for Lewis, Warnock said, "in a moment when there is so much political cynicism and narcissism that masquerades as patriotism, here lies a true American patriot who risked his life and limb for the hope and promise of democracy."
Lewis was arrested 45 times in his life peacefully advocating for freedom and human dignity. In 2013, he was arrested for supporting a popular bi-partisan immigration reform bill that Republicans killed in 2013. In 2016, he led a sit-in on the House floor after the Senate failed to act in response to the Pulse nightclub massacre. He had long worked for change, inside and outside those buildings. At the March for Jobs and Justice in 1963, Lewis said:
If we do not get meaningful legislation out of this Congress, we will march through the South, through the streets of Jackson, through the streets of Danville, through the streets of Cambridge, through the streets of Birmingham.
Across the South, three other Black Senate candidates join Harrison and Warnock. Mike Espy in Mississippi, Adrian Perkins in Louisiana, and Marquita Bradshaw in Tennessee. Our poll last week was the first to show Warnock leading the multi-candidate primary—a finding multiple polls this week confirmed. 
All of our data is publicly available here, and we will publish more surveys next week at the Data for Progress 2020 Senate Project. Donate to Get Mitch or Die Trying and volunteer with Indivisible at the Payback Project!
---
Ethan Winter is an analyst at Data for Progress. Follow him on Twitter @EthanBWinter.
Charlotte Swasey is the Vice President of Data and Polling at Data for Progress. Follow her on Twitter @charlotteeffect
Lucy Solomon is the IE Political Director at Indivisible. Follow her on Twitter @LCH_Sol.