Over the past week, Data for Progress has polled four Senate races: South Carolina, Iowa, and both races in Georgia. In all four races, Democratic Party candidates now lead. All of these are races Data for Progress polled previously. In all four races, we find substantial movement in the direction of the Democratic Party. In the face of Democratic enthusiasm that's generated prolific fundraising numbers and energetic volunteering, Republicans, even in traditionally conservative leaning states, have begun to see their poll numbers sag. Frustration with a Republican controlled Senate that has failed repeatedly to pass even bare-minimal legislation to blunt the economic and public-health impacts of the coronavirus pandemic is only mounting.
In the Palmetto State, we find that Democrat Jamie Harrison now leads the Republican incumbent, Sen. Lindsey Graham (R-SC), by one percentage point, 47-46. Our previous polling in South Carolina, two weeks ago, found Harrison trailing Graham by one percentage-point. This new polling and margin in favor of Harrison comes on the heels of Harrison's awe inspiring third-quarter fundraising haul of $57 million–a record in South Carolina and nationwide Senate races. Democrats have not won a Senate race in this state since 1998, however, this close race and enthusiasm for Harrison's campaign suggests South Carolina Democrats are gaining ground in a Republican stronghold.  
In Iowa, Democrat Theresa Greenfield now has a four point, 47-43 lead over incumbent Sen. Joni Ernst (R-IA). Greenfield is thus running five points ahead of Biden in the state. Like Harrison, Greenfield has shattered state fundraising records. Her campaign has raised $28.7 million since July—the highest figure ever reported by a Senate candidate in Iowa. Since our last poll of this race in late September, when we found Greenfield with a one point lead and 11 percent of voters undecided, these results suggest undecided voters have started to line up behind Greenfield. Support for Libertarian Rick Stewart and Independent Suzanne Herzog totals three percent (two for Steward, one for Herzog).
We first polled the pair of Georgia races in mid-September and found Ossoff down by one point. In the span of roughly one month, the race has swung, on net, by two-points in Ossoff's favor. In the special election for Georgia's other Senate seat, Reverend Raphael Warnock led a crowded field with 27 percent of the vote a month ago. In our most recent survey, Warnock now polls at 30 percent, adding three points to his lead.  
Taken together, these four results paint a picture of a deteriorating electoral position for the Republican Senate candidates. Under the leadership of Senate Majority Leader Mitch McConnell, these Republicans have pursued a ludicrously unpopular agenda. Most notably, they've proceeded with the nomination of a reactionary Supreme Court nominee in lieu of passing more coronavirus relief. Our polling suggests that Republicans will pay a stiff electoral penalty, potentially large enough to cost them control of the Senate.   
In all three of the states we polled, we find that voters overwhelmingly want the Senate to prioritize coronavirus relief over filling the vacancy on the Supreme Court. In Iowa, Georgia, and South Carolina, 66 percent, 62 percent, and 61 percent of likely voters, respectively, would prefer that the Senate prioritize coronavirus relief over confirming Judge Amy Coney Barrett.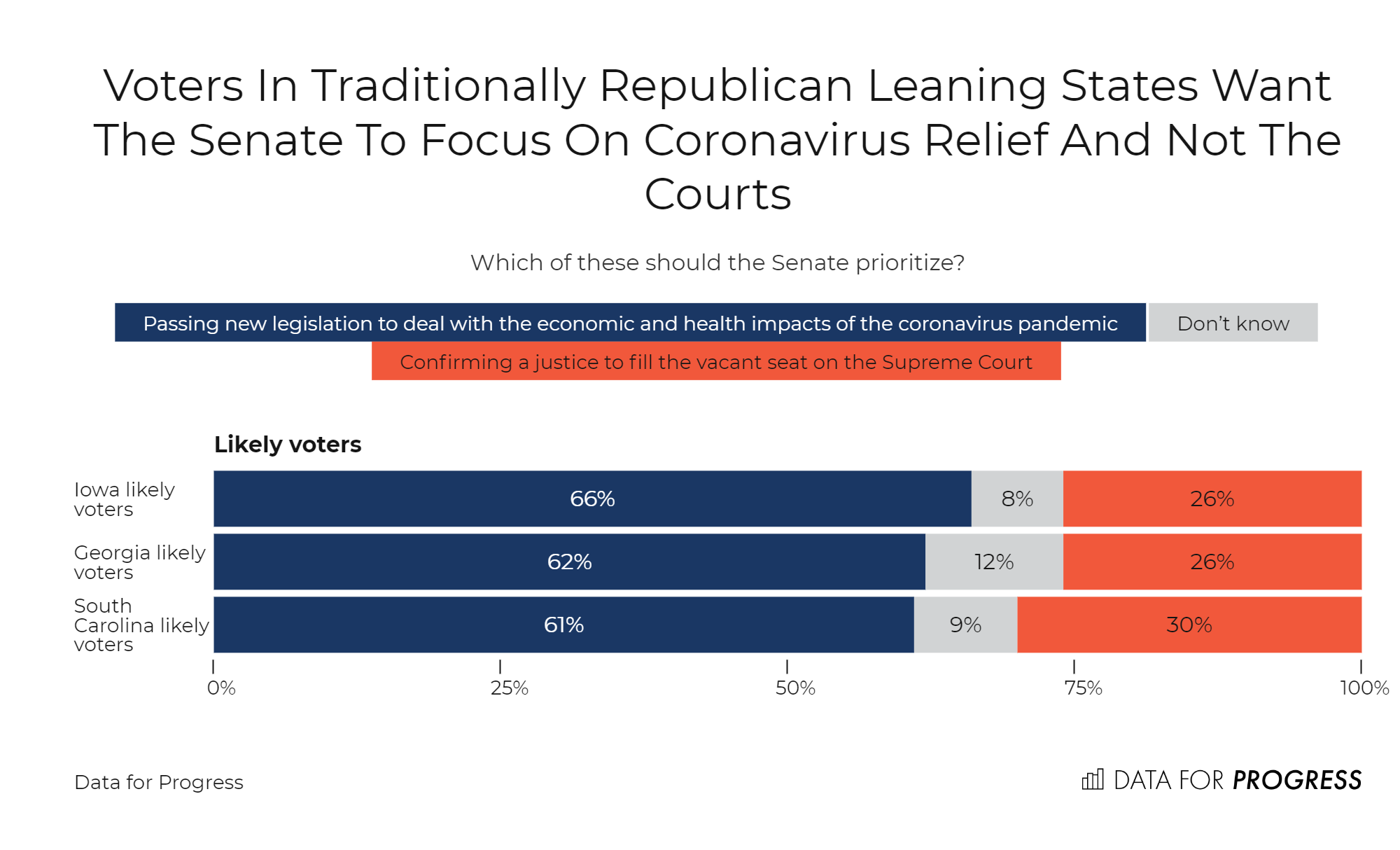 The Republican Party's agenda is deeply out of step with public opinion and the televised confirmation hearings for Barrett leave their twisted priorities fully on display. Rather than assure people don't lose their health care in the midst of a pandemic, Republicans are doing everything they can to confirm a Supreme Court justice who would likely, if given the opportunity, vote to strike down the Affordable Care Act, and take pleasure in doing so. But many voters, even in traditionally Republican states, see this for what it is and reject it. In less than three weeks, these voters will be given an opportunity to do something about it.  
All of our data is publicly available here, and we will publish more surveys next week at the Data for Progress 2020 Senate Project. Donate to Get Mitch or Die Trying and volunteer with Indivisible at the Payback Project! Our previous Crooked.com articles from week's one, two and there can be found here, here, and here, respectively.
---
Danielle Deiseroth is the climate data analyst for Data for Progress. Follow her on Twitter @danielledeis.
Evangel Penumaka is a polling analyst at Data for Progress. Follow her on Twitter @evangelpenumaka.
Ethan Winter is an analyst at Data for Progress. Follow him on Twitter @EthanBWinter.