Over the past three weeks, we've conducted surveys across a wide range of states with key Senate races. In week one, our data showed that Mitch McConnell's majority is in deeper trouble than many election watchers expected. The following week, we found that the death of Justice Ruth Bader Ginsburg did not boost support for endangered GOP Senators; instead progressive volunteers and grassroots donors rallied to support a wide range of Democratic candidates. 
On Saturday September 26, Republican political elites (including several senators) gathered in the Rose Garden of the White House to celebrate their plan to rush a new Supreme Court justice through the confirmation process, over Ginsburg's dying wish. Over the next week, numerous attendees of that celebration would be diagnosed with COVID-19—including President Trump. He announced his diagnosis early Friday, took an airlift to Walter Reed medical center the next day in dramatic fashion, and returned to the White House two days later. Many other attendees will remain in quarantine much longer. 
But during that time, Indivisible volunteers continued their tireless efforts to turn out the vote and Data for Progress conducted new surveys in three states Trump won in 2016: Montana, North Carolina, and Texas.  
Voters could not be any more clear that they are sick of Republican politicians putting their health and safety last. Large majorities in every state agree that the Senate should prioritize coronavirus relief over filling the court vacancy. The people know this virus is the most serious threat in a generation, and they are prepared to vote out politicians who don't treat it that way. 
Nevertheless, this past Tuesday, six months after he signed the last coronavirus-relief bill, and five months after Democrats passed the HEROES Act, Trump demanded congressional Republicans stop negotiating further relief. The Republican Senate wasted those months, refused to negotiate with Democrats, held multiple recesses, and enjoyed many long weekends, before making a counter offer in August that they couldn't even pass through their own chamber. 
President Trump is in deep trouble in these three states, polling well below his 2016 numbers, and he appears to be taking GOP Senate incumbents down with him. 
In Texas, Vice President Biden leads Trump 47-45, marking a net four point swing from DFP's mid-September survey. In the Senate race, Army Veteran MJ Hegar has closed the gap to 3 points, trailing incumbent Sen. John Cornyn (R-TX) 45-42. 
In North Carolina, Biden leads Trump 51-44 while Army veteran Cal Cunningham leads incumbent Sen. Thom Tillis (R-NC), who contracted coronavirus at the White House, 50-39. 
In Montana—a state Trump won by 20 points in 2016—he only leads 49-43. In the states Senate race, Gov. Steve Bullock (D-MT) leads incumbent Sen. Steve Daines (D-MT) 48-47.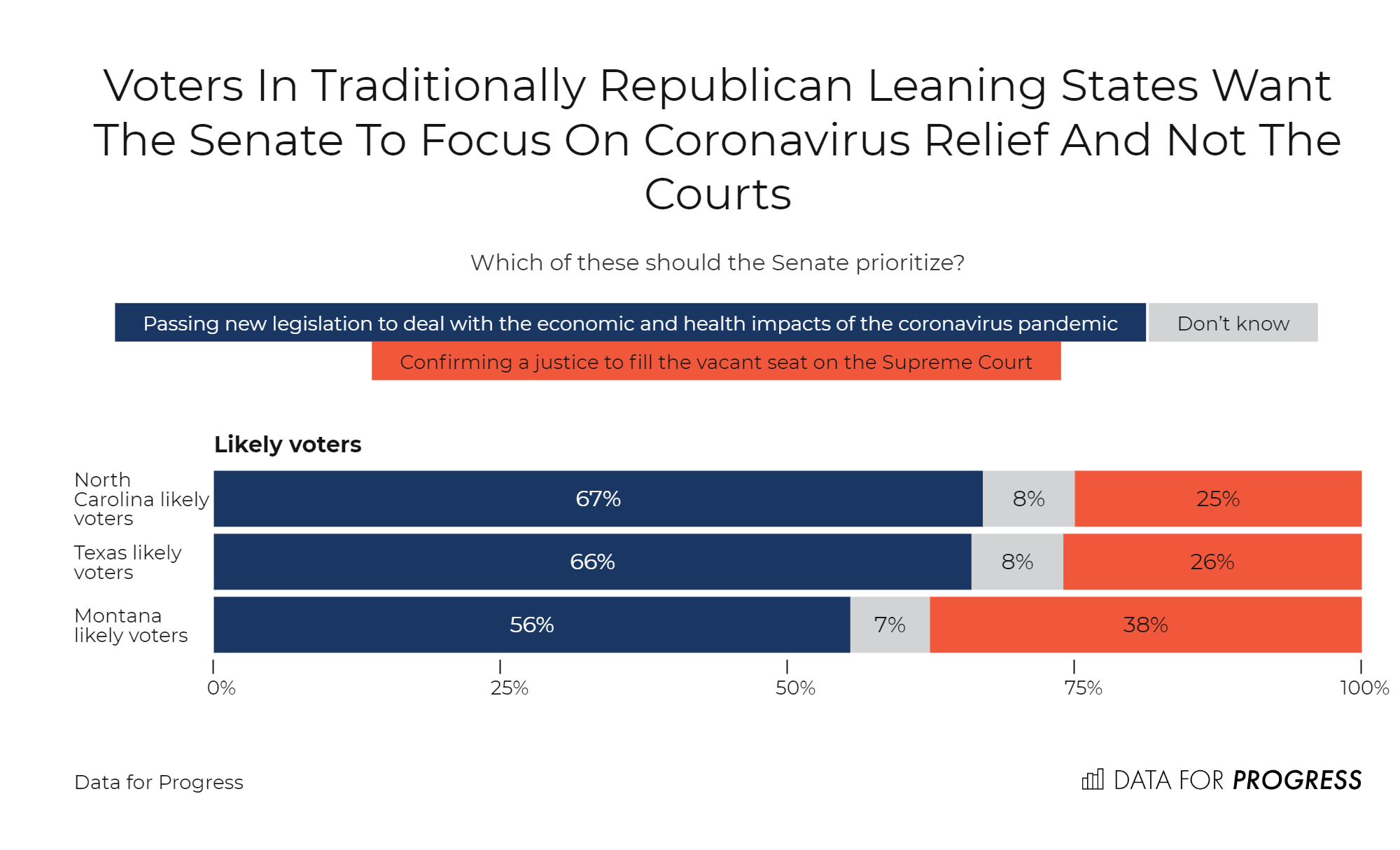 Beneath the head-to-head matchups, the data is even more clear: Large majorities in every state that we polled over the past three weeks want their government to focus on kitchen-table issues: immediate relief from the virus, a jobs program to help people and the economy recover, support for the postal service, and 100 percent clean energy. In this week's survey, we asked respondents about an upcoming case before the Supreme Court and found that voters strongly prefer the court to uphold the Affordable Care Act as constitutional.
Under Trump's leadership, the federal government has failed to keep America from getting sick. Despite contracting the virus, and seemingly spreading it to many of his closest allies, he continues to ignore the people's demands, with the full support of his party. Voters have noticed, and are prepared to send them packing.
---
Ethan Winter is an analyst at Data for Progress. Follow him on Twitter @EthanBWinter.
Charlotte Swasey is the Vice President of Data and Polling at Data for Progress. Follow her on Twitter @charlotteeffect
Lucy Solomon is the IE Political Director at Indivisible. Follow her on Twitter @LCH_Sol.