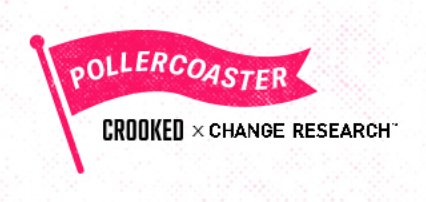 PollerCoaster 8
NEW & INFREQUENT VOTERS IN BATTLEGROUND STATES
SUMMARY
Crooked Media has partnered with Change Research to conduct a series of 2020 polls. You can view the complete crosstabs here, and see more insights here.
Vote Save America
We'll send you the most important updates as we get closer to Election Day.
WHOM DID WE POLL? 
3,098 new and/or infrequent voters in the six closest battleground states: Arizona, Florida, Michigan, North Carolina, Pennsylvania, and Wisconsin. The poll was conducted September 9-13.

For the purposes of this poll, new or infrequent voters are a combination of a) voters who registered for the first time in 2016, b) voters who skipped 2016, c) voters who skipped 2018.
WHY DID WE POLL THESE VOTERS?
We hear plenty about Trump voters, Biden voters, and the voters who are trying to decide between Trump and Biden. We hear less about voters who are trying to decide between casting a ballot or not. What do they believe? What issues are important to them? What do they think about the candidates? And what will get them to vote?

In a close election, these voters could make all the difference. We wanted to find out how volunteers and organizers can most effectively persuade them to vote for Joe Biden.
WHAT DID WE FIND? 
These voters intend to show up in 2020.

Only 3% said they're definitely not/probably not voting, and only 5% said they're a maybe. 76% rate their motivation to vote a 10 out of 10, and another 8% rate it an 8 or 9.

A key segment is still up for grabs.

9% say there is a chance they could vote for another candidate. 

The groups most likely to be initially undecided are independents who lean toward neither party (34%), voters of color (13%), people who didn't vote in 2016 (16%), and 2016 third-party voters (14%). 

Black and Latino voters say they're less motivated: 60% of Black voters and 72% of Latino voters rate their motivation at 10 out of 10, compared with 80% of white voters.

Joe Biden is doing significantly better than Hillary Clinton with new or infrequent voters.

Biden is leading Trump 49-37% with this group, while Clinton only won them 35-30%. His biggest gains over Clinton are among suburban voters (+13), Latino voters (+11), young voters (+11), and women (+10).

Undecided and uncertain voters are looking for reasons to vote for Biden more than reasons to vote against Trump. 

Undecided voters are largely negative about both candidates, but they're much more strongly negative about Trump (-53) than Biden (-38).
41% of undecided voters have no opinion of Biden.
Undecided voters say more research about the candidates (47%) and listening to the debates (19%) will help them make up their minds.
WHAT DO THESE VOTERS BELIEVE? 
The economy is by far the top issue with Trump voters and undecided voters. Biden voters care about COVID response, civil rights and healthcare.

Young voters care about a wider variety of issues than the rest of this universe, with civil rights narrowly edging out the economy as their top issue. Civil rights and managing COVID are African Americans' two top issues, while Latinx voters' top choice is the economy.

Biden leads on every issue except managing the economic recovery — but on several key issues, he trails his 12-point lead in the ballot.

Biden and Trump are tied on managing the economic recovery, and Biden leads by only 5% on helping small businesses recover. He has similarly small leads on crime and keeping America safe, relations with China, and who's a stronger leader. On the other hand, he has large leads on sympathy and empathy, managing COVID, healthcare, and education. His biggest lead is on climate change, but largely because many Republicans selected "Not sure," presumably because they don't think of combating climate change as a real or legitimate issue.

We asked voters an open-ended question what they've heard recently about Donald Trump and Joe Biden.

For Trump, the top response was Bob Woodward's tape of him confessing that he downplayed the threat of Covid-19 (25% mentioned this). A little over 10% mentioned

The Atlantic

story about Trump disparaging the troops, and around 4% mentioned Trump's Nobel nomination. 

For Biden, the top response was "nothing" (11%) – most of the other responses were about his public appearances or were criticisms of Biden.

We asked voters for one-word descriptions about Biden and Trump. 

One-word descriptions of Biden were mostly about his age and honesty — but some disturbing conspiracy theories crept in as well.

The most common word was "honest," which appeared in 6% of responses. The single most common negative word was "puppet," which appeared in 3%. But a variety of words focused on his age: 3% said "old," 2.5% said "senile," and another 3% said "dementia." Disturbingly, 2% — 46 separate individuals — said "pedophile." Finally, illustrating Trump's diminishing skill at coming up with nicknames, only 0.8% said "sleepy."
For Trump, "liar," "strong" and "leader" were the three most common words.

These three were each selected by 6 or 7 percent. Other common words: "corrupt," "narcissistic," "patriot," "evil," "criminal," and "asshole."

We asked voters how much they fear each item in the list below: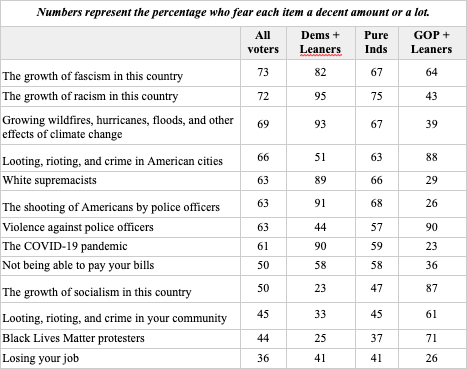 We asked whether or not voters believed the following lies and conspiracies: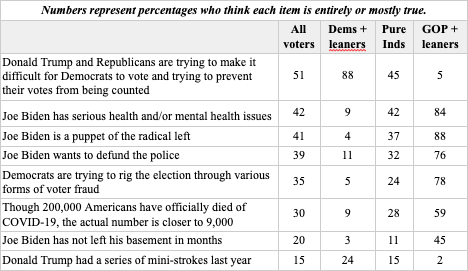 WHAT ARGUMENTS DO THESE VOTERS FIND MOST PERSUASIVE? 
We asked whether the arguments below from supporters and opponents of the candidates are convincing reasons to vote for Joe Biden or Donald Trump.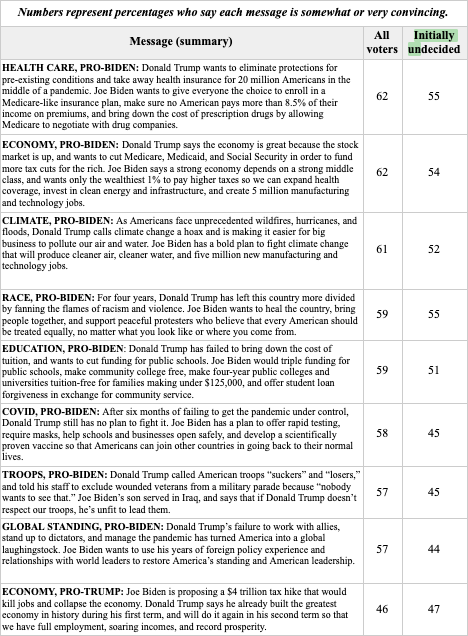 These pro-Biden messages actually move undecided and uncertain voters.

Biden's lead went from 49-37% before these messages to 52-37% after – a bigger shift than we've seen in other Pollercoaster surveys. 

Biden's most persuasive messages involve a contrast between Trump's plans and Biden's plans on health care, the economy, race, and climate change.
Trump's most persuasive message is on the economy, but it performs far worse than most of Biden's messages – especially Biden's economic message, and especially among undecided voters. 
Trump's message about crime and the radical left is not nearly as persuasive as any of Biden's messages on the issues that affect voters' lives.