Next week members of the House of Representatives will be voting on H.R. 1, otherwise known as the For the People Act. The act calls for sweeping reforms to reduce barriers to voting, such as extending early voting periods and automatic voter registration, increasing transparency around money in politics and elevating the voices of small donors. The legislation would also require states to use independent, nonpartisan commissions to form congressional districts. These reforms are urgently needed particularly when reflecting on Republicans' ongoing battle both during and following the past November election to drastically restrict voting access, actions that would pointedly suppress the votes of people of color. 
In a mid-February poll by Data for Progress and Vote Save America, we examined attitudes on H.R.1 through a national sample of 1,555 likely voters. We find that voters overwhelmingly support the legislation and key reforms that the legislation would implement — from limiting money in politics to independent commissions for redistricting.
First we examined general support for the legislation. Here, respondents were told that the For the People Act is a package of reforms to: "expand access to voting, limit the influence of money in politics, and require congressional districts to be drawn by a non-partisan commission so that no one party has an advantage." We find the bill enjoys overwhelming support: 68 percent of likely voters support the bill, while only 16 percent oppose it —constituting an extraordinary52-percentage-point approval margin. We also find notable levels of support across party lines. Seventy percent of Democrats, 68 percent of Independent / third party voters and 57 percent of Republican voters support H.R. 1.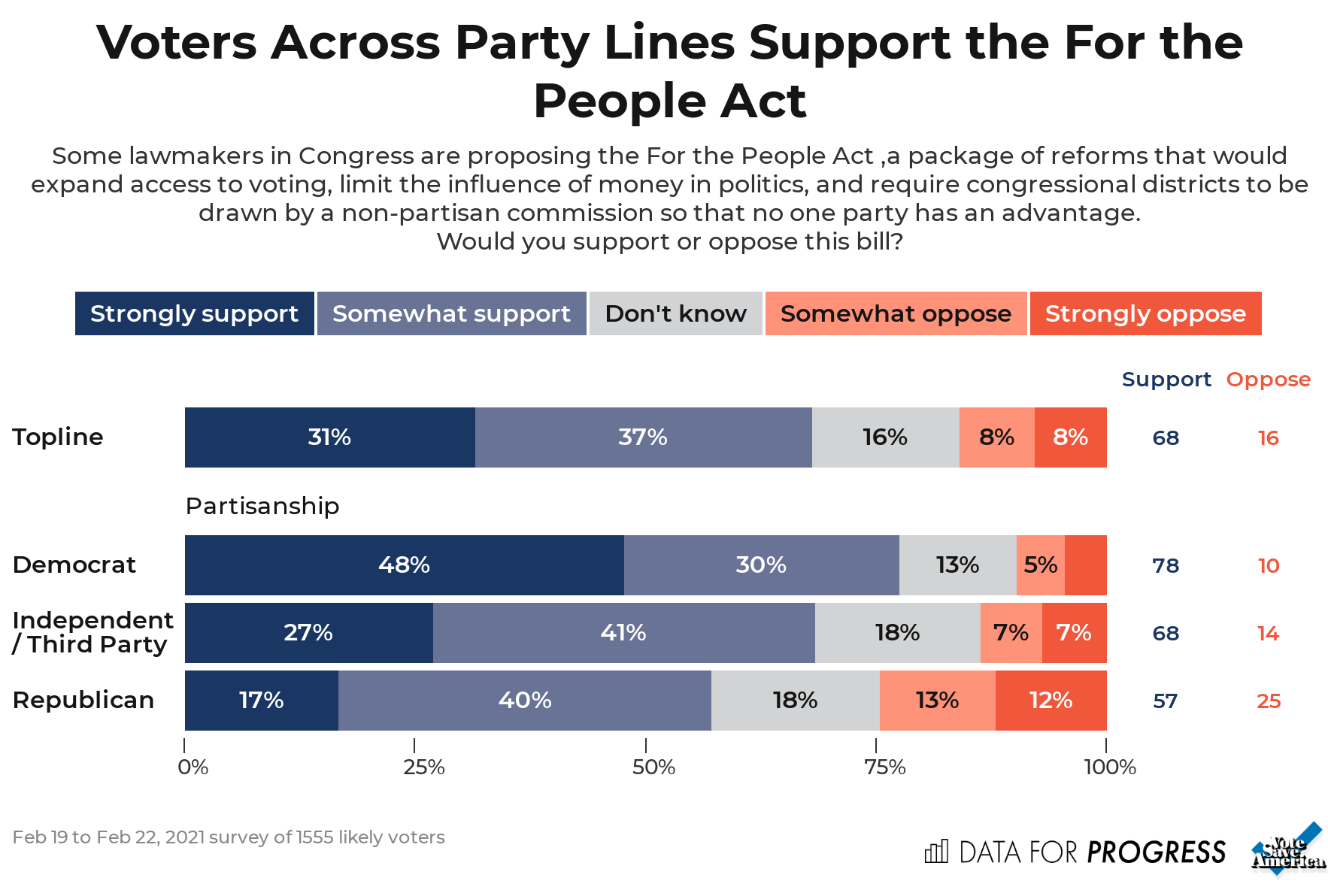 The bill would enact wide-reaching reforms, so we also tested key, individual components of the bill to examine which aspects of the bill poll best. Among the more popular provisions are those limiting the influence of big donors, other countries, and our own parties. Eighty-six percent of voters support preventing foreign inference, 85 percent support limiting money in politics and 84 percent support increasing election security—figures that seemingly reflect the most prominent controversies around the November election. We also find notable support for an initiative that would require all states to use non-partisan commissions for drawing congressional districts to ensure no one party can tilt the playing field to its advantage: 74 percent of voters support this idea, trouncing the 11 percent who oppose it by a 63-point-margin. The bill's range of expansions to voting access, such as a 15-day early voting period and voting by mail, are slightly less popular by comparison. However, these provisions are quite popular, too, suggesting the bill's overall popularity may be durable.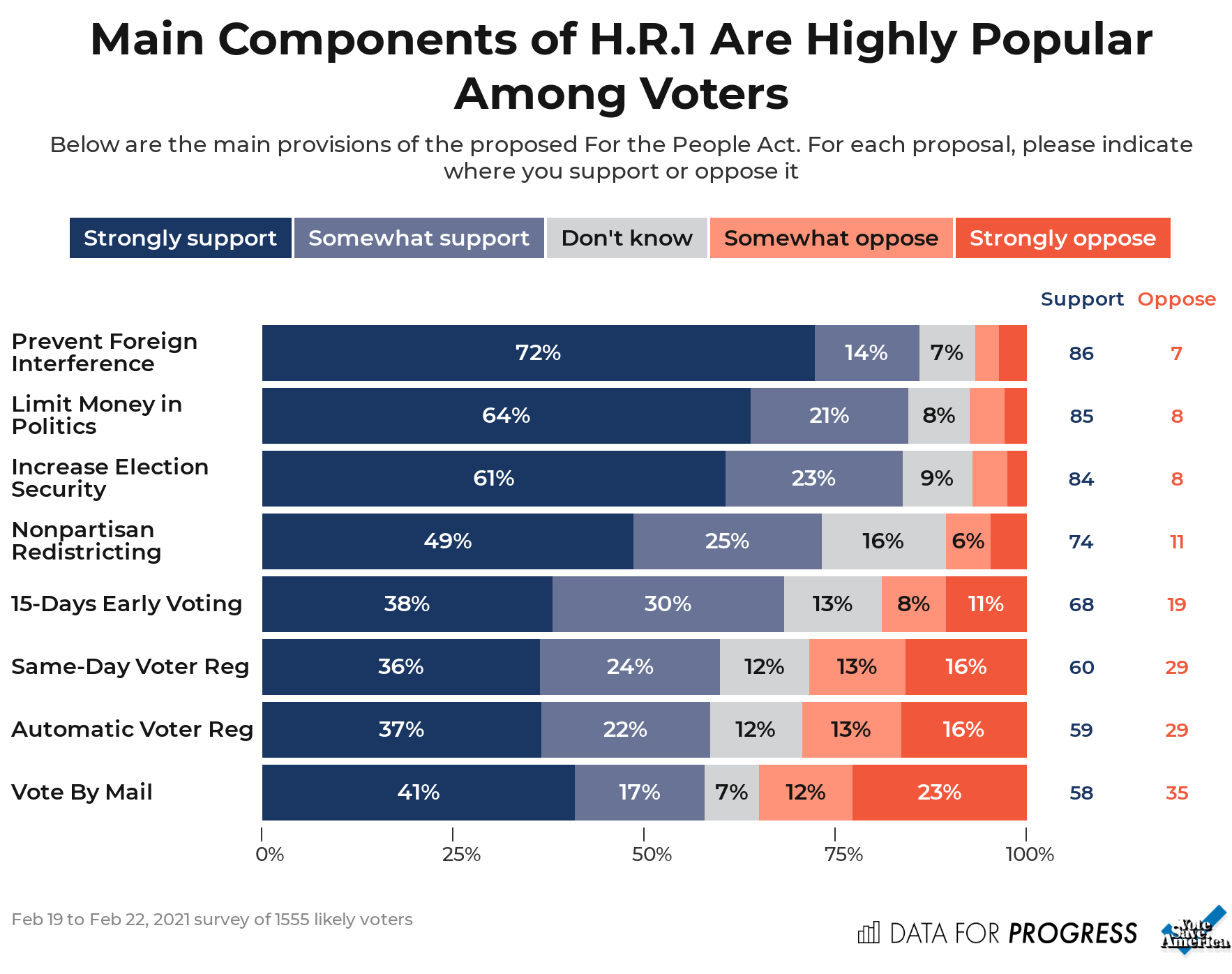 Lastly, we used three different Democratic framings of H.R. 1 to test which messages best counter the main talking point Republicans use to oppose the bill. vWe presented each of three groups with the following Republican argument: 
"Republicans say the bill is just a power grab by Democrats to elect more Democratic politicians, and it gives Washington too much power over states."
We then presented the groups with one of three different Democratic counterarguments:
Protecting voting and civil rights: "Democrats say we need this bill to protect civil rights and voting rights because everyone should have an equal voice in our democracy, no matter what you look like, where you come from, or how much money you have."
Limiting influence and expanding access for all: "Democrats say reducing the influence of big donors in politics and expanding access to voting are important for everyone — regardless of whether you voted for Joe Biden or Donald Trump."
Urgency of redistricting: "Democrats say we need this reform now more than ever, as Republican State legislatures have already introduced bills across 33 states that would restrict access to voting. We need nonpartisan, independent redistricting commissions to make sure voters get to pick their politicians instead of allowing politicians to pick their voters."
We find consistent, net support among likely voters for all three Demcratic messages on specific parts of the bill. The results do vary somewhat, across party identification. Among Democrats, the urgency of redistricting receives the most  support (88 percent), though Democrats back all of these framings enthusiastically.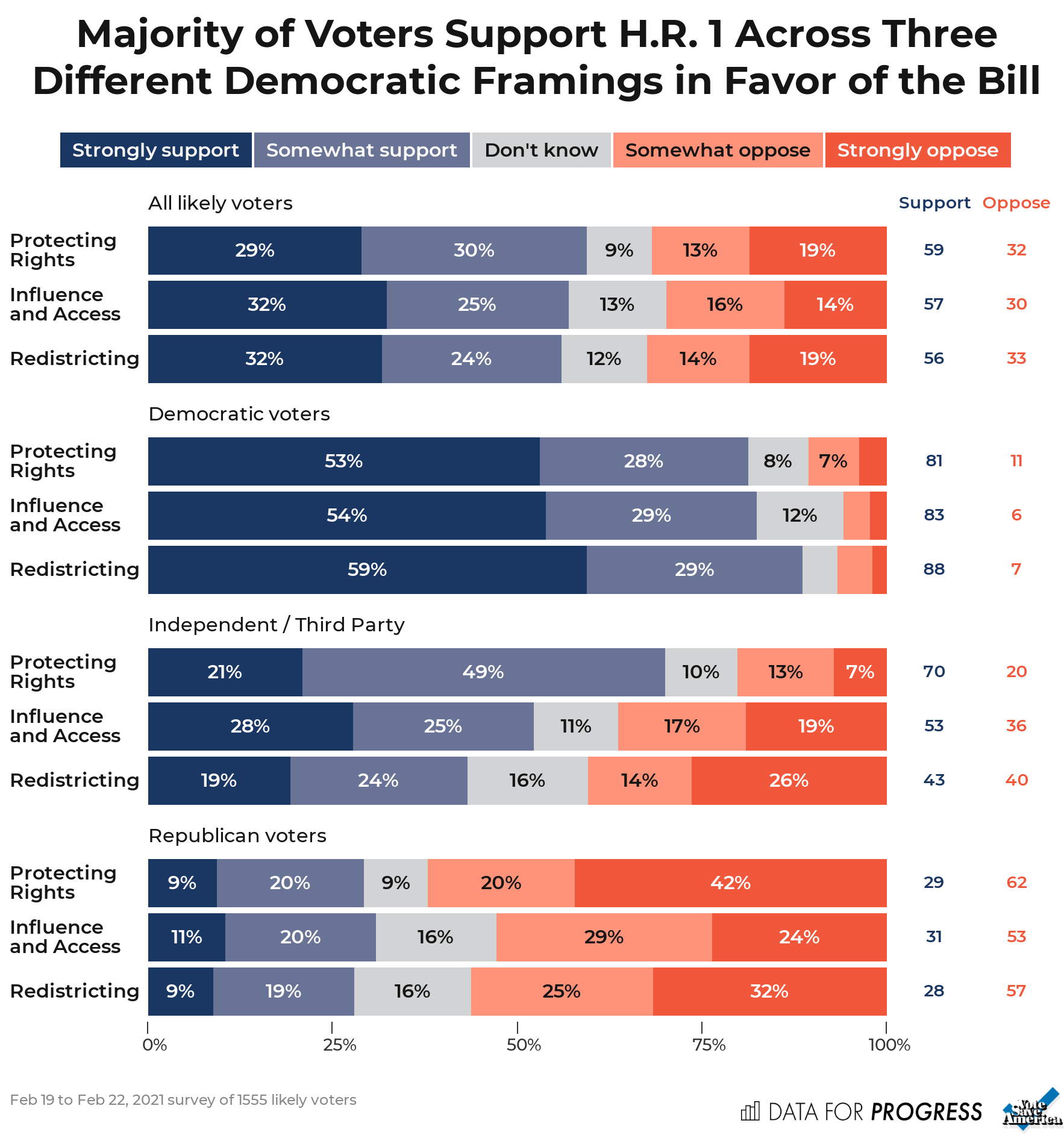 The majority of Republican voters in each of the three splits opposed the bill, regardless of frame—an unsurprising finding, given the explicitly partisan framings of the bill. The frame that Republican voters opposed the most, however, was the one that emphasized the bill's protections for civil and voting rights. Results vary the most among independents. Protecting civil and voting rights receives high levels of support (70 percent), in contrast to an emphasis on influence and access (53 percent support), and redistricting (43 percent support). 
These results underscore the need for Congress to pass H.R.1 as quickly as possible. The bill itself has strong support among voters and across party lines. However, Republicans show polarized opposition to the goals of the bill to increase voting access and make sure everyone's voice is heard. We have a small window of opportunity to modernize our electoral system and stop backward antidemocratic tactics that disproportionately suppress voters of color. Members of Congress must seize this opportunity to reform our democracy and create a fair, equal system with accountability and transparency—one that a large majority of the voting public supports. 
Methodology: 
From February 19 to February 22, 2021, Data for Progress conducted a survey of 1555 likely voters nationally using web panel respondents. The sample was weighted to be representative of likely voters by age, gender, education, race, and voting history. The survey was conducted in English. The margin of error is ±2 percentage points. The raw counts by party identification are 615 Democrats, 390 Independent / Third Party voters and 551 Republicans. 
Evangel Penumaka is a polling analyst at Data for Progress. Follow her on Twitter @evangelpenumaka.